News and Data
Feb 05, 2013
IE Brief: How do you fatten a pig (or not)?
A light-hearted look at "closing the loop".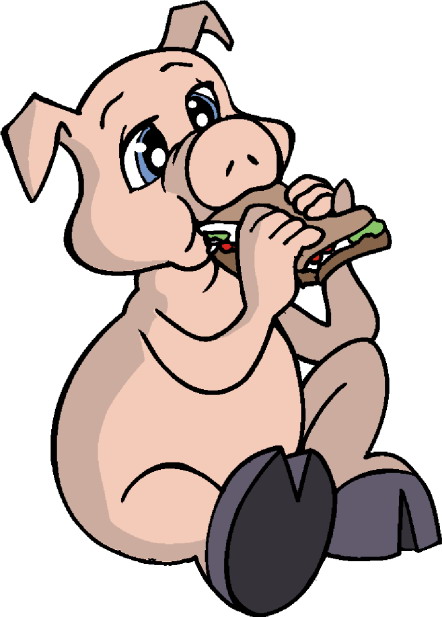 We can't fatten a pig just by weighing it, and we can't improve a program or service just by assessing it.
We need to USE the results we collect to take the next step in our overall goal.
Contact Linda at: lscuiletti@cccc.edu, Janelle at: jhart@cccc.edu, or Michelle at: mbodily@cccc.edu for ideas on how to 'fatten the pig' in your program or department.
Brought to you by YOUR Institutional Effectiveness Department
Jan 31, 2013
IE Brief: Hello Mr Chips - CCCC's Critical Connection
Connecting Hearts and Minds....
Many faculty and staff have asked for more information on the relationship between "creating a welcoming/caring environment" and "student retention and success". Steven Meyers recently reviewed the research literature on this topic in his article Do your students care whether you care about them? He concludes that "caring is a powerful teaching tool," and that it fosters the courage students need to invest in learning and reach beyond their current abilities. Caring also pays dividends for instructors as students generally respond in kind.
Study after study shows that college students who feel their instructor cares about them engage more fully with the course, and that caring supports:
Mastery of difficult material
Development of higher-order learning skills
Integration of new information with current knowledge/past experiences
Ethical decision-making capabilities
One study demonstrates that a college instructor's caring attitude towards students accounted for
58% of the positive variation in student motivation to learn
42% of the positive variation in course appreciation
60% of the positive variation in students' attitude about the instructor
CCCC faculty and staff care deeply about our students and their success; that's a given. But do our students always perceive this care? Research suggests the following techniques for conveying our care to students:
Use personal examples or talk about experiences had outside of class
Use humor in class (but not sarcasm)
Ask questions/Encourage students to talk and express their views
Foster discussion about something a student brings up even when this isn't part of the plan
Address students by name
Get into conversations with individual students before and after class
Refer to class as "our" class or what "we" are doing
Provide feedback on students' individual work through comments on assignments
Invite students to meet outside of class if they have questions or want to discuss something
Praise students' work, actions or comments
Physical manifestations: Gesturing, Looking/Smiling at the class and individuals, Moving around the room, Using a variety of vocal expressions, and Having a relaxed body posture
Want to learn more? Download the full article at: http://www.tandfonline.com/doi/abs/10.1080/87567550903218620.
You can also subscribe to the free Faculty Focus electronic newsletter which reviews the article at http://www.facultyfocus.com/articles/teaching-and-learning/students-place-a-premium-on-faculty-who-show-they-care/.
We always welcome your feedback in the IE Department, contact us any time at:
Central Carolina IS the College that Cares!
Brought to you by YOUR Institutional Effectiveness Department at http://www.cccc.edu/ie.
Jan 22, 2013
IE Brief: Barb Rusher Rodriquez's Love Letter to SACS
Our former colleague Barb Rusher Rodriguez has published an article about her changing views of accreditation, including some experience gained right here at CCCC. In her lead article in the Assessment Update: Progress, Trends and Practices in Higher Ed Journal, Barb borrows from Elizabeth Barrett Browning as she "counts the ways" that SACS facilitated her instructional metamorphosis. In fact Barb's not alone ... 94.4% of colleges report that undergoing the reaffirmation process had a positive impact on their institutions!
CCCC is currently immersed in the SACS Fifth-Year Interim reporting process as required to maintain our accreditation, including a college-wide reflection/self-evaluation that involves an in-depth examination of numerous data, and development by 23 administrators and instructors of detailed narratives addressing each of 18 accreditation principles. As coordinators of this effort, the IE staff sees that this intensive reflection/evaluation is leading to positive changes campus-wide. We're looking closely at how we operate and how we could improve.
The SACS Fifth-Year Reporting process is invigorating and energizing to those involved, and the college WILL reap the benefits. Check out Barb's article at the link below, and contact us (Linda Scuiletti, Janelle Crossgrove Hart, and Michelle Bodily) to learn more, or to let us know about the positive impact YOU see from the process of maintaining accreditation!
Contact Linda at: lscuiletti@cccc.edu, Janelle at: jhart@cccc.edu, or Michelle at: mbodily@cccc.edu.
Download Files:
Brought to you by YOUR Institutional Effectiveness Department
Oct 31, 2012
IE Brief: Identifying Substantive Change
SACS requires that CCCC report "any significant modification or expansion in the nature and scope of an accredited institution" through their substantive change process. We must report changes in credit-bearing educational experiences, including the following common occurrences:
Starting a new credential
Expansion to new sites
Program closures and site closures
Changing 25% or more of the coursework for a credential (for example changes due to Super CIP)
Offering 25% or more of a credential through distance education
Offering 25% or more of a credential at a previously unreported site (like a high school)
SACS requires advance notice for these changes. We rely on input from faculty, staff, and committees to identify initiatives that may require reporting. If you know of any upcoming changes that may be substantive in nature, please share those with us in IE. Contact Janelle Crossgrove Hart directly (919-718-7253 or jhart@cccc.edu) or through our web-based request form available here: http://www.cccc.edu/ie/request. We would rather hear the same information from 10 people than have a substantive change go unreported.
For more information: Our institutional effectiveness website has a webpage dedicated to information on substantive change available here: http://www.cccc.edu/ie/substantivechange/. CCCC's recently updated policy on substantive change (Policy 5.11.1 SACS/COC Notification of Changes) is also on the IE website: http://www.cccc.edu/ie/substantivechange/pdfs/SACS_Substantive_Change_Policy.pdf.
Brought to you by YOUR Institutional Effectiveness Department
Oct 24, 2012
Celebrating O&A Superstar Ginger Harris-McGinty
n the Curriculum Division, Outcomes & Assessments involves measuring student performance on an important program competency, and using the data to plan program improvements that will enhance student learning and success (known as "closing the loop").
Ginger Harris-McGinty, Chair of Early Childhood Education, courageously specified a Student Learning Outcome involving a complex major project on which her students needed to meet standards specified by the North Carolina Early Childhood Administration. The first year, Ginger and her faculty found that only 77% of the students satisfactorily completed the project meeting the state standards.
Ginger worked with her faculty to figure out how to help more students succeed. They decided to break the complex assignment into smaller steps with a piece due every two weeks, and also allowed students to submit a rough draft of each step for feedback from the instructor, then revise to create a final draft.
As a result, the success rate for this assignment went from 77% in 2010-11 to 91% in 2011-12! Students felt less overwhelmed by the magnitude of the assignment and took advantage of the opportunity to get feedback on their rough drafts before final submission.
A hallmark of success in the Outcomes & Assessments process is being able to identify an area or areas of weakness that we can focus our resources on for future improvement ... this is where we celebrate the ability to pinpoint and isolate an issue where thoughtful collaboration may lead to improvements that enhance student learning and success! So as all departments shape our Plans for the next three-year cycle, let's leave behind the Outcomes for which 90+% are already meeting the target, and courageously face down those sticky competencies that our students struggle with.
Can we help more students succeed? You bet we can! We're already seeing evidence of that!!
In terms of actual students, the changes Ginger made meant that five additional students were successful on this key program competency in 2011-12! Carrying this forward, more students will succeed each and every year thanks to the hard work, dedication, and courage of Ginger and her faculty.
In envisioning the impact of the Outcomes & Assessments process, the Chairs have embraced the "Starfish" metaphor - the story where a man tells a boy that he can't possibly make a difference when there are thousands of starfish stranded on the beach, and the boy tossing another starfish into the sea responding "I made a difference for that one." All those starfish ... all those students ... are depending on us!
Thanks, Ginger ... you made a difference for that one!
Contact Linda at: lscuiletti@cccc.edu, Janelle at: jhart@cccc.edu, or Michelle at: mbodily@cccc.edu.
Brought to you by YOUR Institutional Effectiveness Department
Oct 17, 2012
IE Brief: New Federal Data compares CCCC to similar NC CCs
CCCC's 2012 IPEDS Data Feedback Report has arrived and is available for you to download below. This standard report, compiled annually by the National Center for Educational Statistics' IPEDS unit for virtually all colleges and universities, compares CCCC to a relevant comparison group on various key metrics.
This year's comparison group has been customized by CCCC senior administrators, and is comprised of seven other NC community colleges with similar enrollments and demographic characteristics to CCCC, making the data more relevant and useful.
Highlights: In comparison to the seven similar NC CCs, IPEDS reports Central Carolina has:
Nearly 3 times the number of Certificates awarded in 2010-11
Over 4 times the number of Diplomas awarded in 2010-11
About equal the number of Associate's degrees awarded in 2010-11
Almost 60% higher "Net Price of Attendance"
13% fewer Pell grant recipients
11% to 15% lower retention for the Fall 2010 cohort
17% higher Instructional expense per FTE enrollment (FY 2011)
64% higher Academic Support expense per FTE enrollment
18% lower Student Services expense per FTE enrollment
32% higher "Other" core expense per FTE enrollment
For additional comparisons download the full report below
We have the capability of quickly and easily creating additional customized Data Feedback Reports, using other comparison institutions that we specify, and examining other key metrics. IPEDS Surveys cover more than 700 variables from every aspect of institutional operation. IPEDS is a valuable resource for use in data-informed decision making as well as in benchmarking. Furthermore, this data is entirely free and available to the public, including potential students, the media, and all government officials.
If you would like to make your own comparisons in IPEDS, you can start here: http://nces.ed.gov/ipeds/datacenter for a handy resource card listing step-by-step instructions for all the different types of comparisons you can make.
Please contact Linda Scuiletti or Janelle Hart if you would like any additional comparisons, or if you have any questions about the standard IPEDS DFR attached.
Contact Linda at: lscuiletti@cccc.edu, Janelle at: jhart@cccc.edu, or Michelle at: mbodily@cccc.edu.
Download Files:
Brought to you by YOUR Institutional Effectiveness Department
Oct 01, 2012
IE Brief: IPEDS=Free Public Access to Data on all US Colleges
The general public, including our students, their parents, government officials, and the media, has free access to a wealth of data submitted each year by most U.S. colleges to the Integrated Postsecondary Education Data System (IPEDS), The data represents diverse and extensive information from every aspect of institutional operation, on more than 700 variables. IPEDS offers many tools allowing the public to utilize data for individual institutions and customizable comparison groups.
Prospective students and their parents often use the College Navigator, one of several available IPEDS tools, to compare colleges. When a prospective student completes a FAFSA, he/she automatically receives IPEDS-generated comparative data for each school under consideration.
IPEDS includes comprehensive data from the following areas:
Enrollment
Staff and Faculty Salaries
Retention
Graduation Rates
Completions
Student Cost/Net Price
Financial Aid
Finances
Institutional Characteristics
The initial data collection period for the 2012-13 academic year is currently in progress.
IPEDS produces an annual standardized Data Feedback Report for each institution (also available to the public). Access CCCC's most recent Data Feedback Report below, or access additional data and analysis tools for CCCC or any other U.S. postsecondary institution at the IPEDS Data Center: http://nces.ed.gov/ipeds/datacenter.
For more information, contact Scuiletti Linda at: lscuiletti@cccc.edu, Janelle Crossgrove Hart at: jhart@cccc.edu.
Brought to you by YOUR Institutional Effectiveness Department
Sep 24, 2012
IE Brief: Employers rank skills of CCCC Grads
Ninety-one employers responded to the 2012 Employer Satisfaction Survey ranking CCCC graduates' skills as follows:
For more information or to learn how employers ranked the skills of your program's graduates, please contact Linda at: lscuiletti@cccc.edu, Janelle at: jhart@cccc.edu.
Brought to you by YOUR Institutional Effectiveness Department
Sep 13, 2012
IE Brief: How does CCCC stack up against other NC CCs?
The 2012 NCCCS Critical Success Factors Report names Central Carolina Community College as one of 16 Exceptionally Performing Institutions this year! CCCC earned this honor by meeting the following criteria: 1) Met or exceeded all Performance Measures, 2) No licensure exams with a passing rate of less than 70%, and 3) College transfer students performed at a level equal to or above native UNC system students.
Congratulations on a job well-done! But how does CCCC rank against the other NC CCs? Here's a list of the Critical Success Factors, our 2012 results, and ranking within the state for each:
CCCC Rankings on 2012 Critical Success Factors
Rank among
all NCCCs
Progress of Basic Skills Students
Not reported in 2012
Not reported in 2012
Passing Rates on Licensure Exams
84%
36th of 58
Performance of College Transfer Students
94%
11th of 58
Passing Rates of Students in Developmental Courses
81%
30th of 58
Success Rate of Developmental Students in Subsequent College-Level Courses
93%
7th of 58
Student Satisfaction of Completers/Non-Completers
91%
56th of 58
Curriculum Student Retention, Graduation & Transfer
67%**
30th** of 58
Client Satisfaction with Customized Training
92%
50th of 58
**NCCCS Persistence data methodology incorrectly counts students TWICE when they graduate with a certificate AND return the next fall semester, thereby artificially inflating CCCCs success rate since we have a large number of students who do this. In future years the NCCCS will correct this.
Want to see CCCCs Trends on these measures over time, or the full 2012 NCCCS Critical Success Factors Report for all NC CCs? Both of these documents are attached below.
Download Files:
Please contact Linda Scuiletti at lscuiletti@cccc.edu if you have questions or would like additional information.
Sep 07, 2012
IE Brief: CCCC's on FYIR!
Did you know? CCCC's accreditation with SACS is on a ten-year cycle, and a mid-cycle report is due to be submitted next fall. The Fifth Year Interim Report (FYIR, which we call "fire") addresses seventeen of the standards and requirements from the full compliance report and includes the QEP impact report for Writing Works. The first draft of this report has been completed and reviewed internally, with help from twenty-three authors and seven reviewers across all campuses. A near-final version will be available for CCCC employees to read in spring. For more information, contact Janelle Crossgrove Hart at jhart@cccc.edu.
Sep 04, 2012
IE Brief: Congrats to Top-Rated CCCC Service Areas!
Of 20 support service areas rated, students responding to the CCCC Spring 2012 Enrolled Curriculum Student Survey expressed the highest level of satisfaction for:
Library (98% Satisfied)
Cashier's office (97% Satisfied)
Computer resources/Tech Support (96% Satisfied)
Campus Security (95% Satisfied)
A big thanks to ALL CCCC service areas for consistently providing outstanding customer service to students: research shows that students' satisfaction with specific services and students' perception that service staff are responsive to their needs play a MAJOR role in retention. Share your success strategies for providing outstanding service to students via email to Linda Scuiletti, and we'll share them on our new IE Website.
Aug 29, 2012
IE Brief: Students say CCCC helps boost confidence
Great news: 71% of curriculum students reported that their self-confidence is either Stronger or Much Stronger since they first entered CCCC, according to the Spring 2012 Enrolled Curriculum Student Survey!
Credible education research shows that self-confidence is associated with:
Positive learning attitudes
Motivation to learn
Optimal learning
Achievement
Retention
In fact, self-confidence is both a pre-cursor for and a result of effective performance, creating a pathway to success that spirals ever-higher!
Congratulations to Team CCCC for helping our students attain this crucial element. How do you help your students increase their self-confidence? Send your ideas and stories to Linda Scuiletti at lscuiletti@cccc.edu, and we'll share them on our new IE Website.
Aug 21, 2012
IE Brief: 95% of students feel welcome at CCCC!
Great news from the Spring 2012 Enrolled Student Survey: 95% of curriculum students reported that they Always or Usually "feel welcome at CCCC"! That's important since credible research shows that almost 50% of students' decision to persist to graduation is directly related to Campus Climate ... including factors like feeling welcome, a sense of belonging, cared about, and a sense of pride about their school!
Congratulations to the CCCC family ... Central Carolina is the College the Cares! If you'd like a CCCC Cares button just send an email request to Linda Scuiletti at lscuiletti@cccc.edu. Full survey results will be released soon, from your Institutional Effectiveness Department.